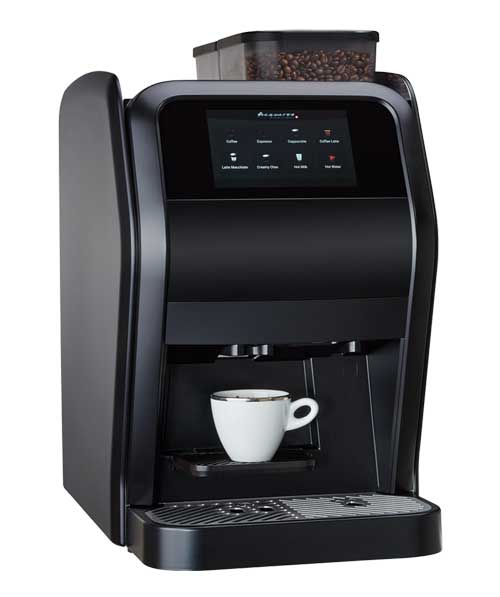 Hot Start System
Unique heating system, creates perfect hot coffee from the very first cup.

Quality Control System
Excellent taste is guaranteed by automatic quality control of the grinder along with automatic adjustment of grinding and brewing times.

High Hygiene Standard
Best hygiene milk system keeps bacteria away and reduces maintenance and cleaning work (meets EU hygiene regulations HACCP).
Bolivia Bean to Cup Coffee Machine
OVERVIEW
The Bolivia is the new starter model from within Aequator's portfolio of commercial coffee machines. The Bolivia is a very compact yet powerful coffee machine that offers unmatched performance and reliability.
The Bolivia is a "simply clever" fully automated self-service machine with a 7" integrated touch screen display that delivers consistently high quality drinks at a rate of up to 70 cups per hour. Being "simply clever" the Bolivia uses the unique Swiss grinder "Flexi Grind" which can process two coffee types with the one grinder. Flexi Grind leaves no coffee residue in the grinder and each drink type can have its own different and special grind setting (coarser/finer). At a touch the Bolivia can prepare a great variety of different coffee specialities in a variety of cup sizes, making it ideal for offices, catering and convenience areas.
Manufactured in Switzerland.
MENU
Americano, espresso, café latte, cappuccino, latte macchiato, mochaccino, chocolate, hot water
FEATURES

Compact design
40 – 70 cups per hour
16g Brewer
1 Grinder, two bean types
Touch Screeen
Unique "Flexi Grind" Swiss grinder
Energy Rating: A
2 instant canisters for chocolate and milk
CAPACITIES/ VOLUMES
40 – 70 cups per hour
DIMENSIONS
Width 345 mm, Height (with large bean hopper) – 565 mm,
Height (with small bean hopper) – 530 mm, Depth – 570 mm