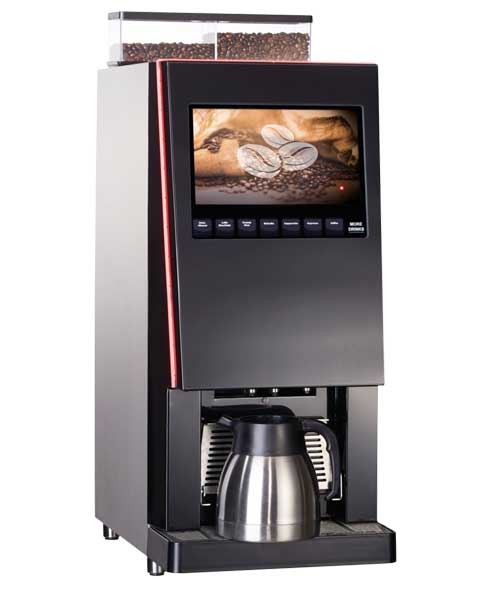 Hot Start System
Unique heating system, creates perfect hot coffee from the very first cup.

Quality Control System
Excellent taste is guaranteed by automatic quality control of the grinder along with automatic adjustment of grinding and brewing times.

High Hygiene Standard
Best hygiene milk system keeps bacteria away and reduces maintenance and cleaning work (meets EU hygiene regulations HACCP).
Ecuador Bean to Cup Coffee Machine
OVERVIEW
The Ecuador is a fully automatic self-service high performance coffee machine. The Ecuador combines a long working life with a 1gb capacity multimedia display that makes for a fantastic business branding opportunity. It is beautifully designed with a real eye catching glass front, LED lighting and an integrated touch screen user interface.
Ecuador is a high-performance coffee machine and at the touch of a button can produce a wide variety of coffee drink specialities at up to150 drinks per hour. Ecuador is available in both fresh milk and granulated milk versions. Ideal for showrooms, catering and convenience areas.
Manufactured in Switzerland.
MENU
Americano, espresso, caffe latte, cappuccino, latte macchiato, mochaccino, chocolate, hot water
FEATURES

Bean to cup coffee machine
Touch screen operation
8 direct drink selections
Option for two drink sizes via a shift key
Adjustable dispense head height
Jug facility
Visible bean hopper
Compact
Real black glass fascia
Energy efficient
Simple to clean and maintain
2 instant canisters for milk & chocolate
LED lighting
Water connection for fresh and waste water electronically controlled
Dispense time of 25-35 seconds
Available in powdered and fresh milk versions
Optional double grinder
Grinder guaranteed for 1 million grinds
CAPACITIES/ VOLUMES
Coffee beans – 200 cups
Milk powder – 7 litres
Chocolate – 7 litres
Fresh Milk – 10 litres
180-240 cups of coffee per hour 28 litres of hot water per hour
DIMENSIONS
Width 320 mm, Height 810 mm, Depth 600 mm
POWER
230 V, 50Hz, 13 A, 3kW
FINISH
Gloss powder coated with real black glass
COLOURS
Exterior black gloss
WEIGHT
50Kg