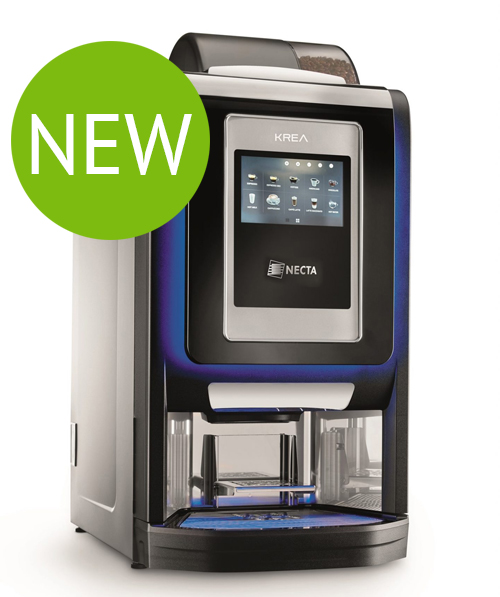 Espresso Coffee
Compact espresso boiler with 600 cc capacity

Touch Screen Selection
User-friendly 7'' Touchscreen display

One Dispensing Point
Dispense time of 25-35 seconds
Necta Krea Bean to Cup Coffee Machine
OVERVIEW
The Krea Touch is the latest model in the Necta range of superb automatic bean to cup coffee machines. The Krea Touch has a most appealing design with its decorative light, chrome frames and stylish black surfaces. The Krea Touch has a wide 7'' screen with a user-friendly display that allows for a combination of a great number of drink selections and a Multimedia display (Company Logo & Promo Videos).  The unrivalled performance makes the Krea Touch the ideal solution for your coffee break.
The Krea Touch combines the patented Z4000 coffee brewer with a compact espresso boiler that guarantees a high consistent throughput. The Krea Touch has three modular internal canisters that can be used for milk, decaffeinated coffee and hot chocolate. The robust patented brew unit is versatile and can be programmed for 7oz, 9oz and 12oz cups.
The design of the Krea Touch and especially its stainless-steel delivery area makes it very easy to clean and maintain. The Krea Touch has a direct water connection and user-friendly cleaning cycle making daily maintenance quick and simple.
MENU
Americano, Espresso, Latte, Cappuccino, Latte macchiato, Flat White, Mochaccino, Chocolate, Hot water
FEATURES

User-friendly 7'' Touchscreen display
Up to 10 drink selections per screenshot
Free vend or coin facility
Option for three drink sizes
Visible bean hopper
200 drinks per day
Multimedia display for company logo & promotional videos
Energy efficient with optional deep sleep mode
Simple to clean and maintain
3 instant canisters for milk, hot chocolate or decaffeinated coffee
Water connection for fresh and waste water electronically controlled
Dispense time of 25-35 seconds
14.5g brewer capacity
CAPACITIES/ VOLUMES
Coffee beans – 100 cups
Milk – 14 litres
Chocolate – 5 litres
90 cups of coffee per hour
DIMENSIONS
Width 410 mm, Height 750 mm, Depth 574 mm
POWER
230 V, 50Hz, 13 A, 3kW
FINISH
Gloss powder coated with glass face
COLOURS
Exterior in black gloss
WEIGHT
50Kg