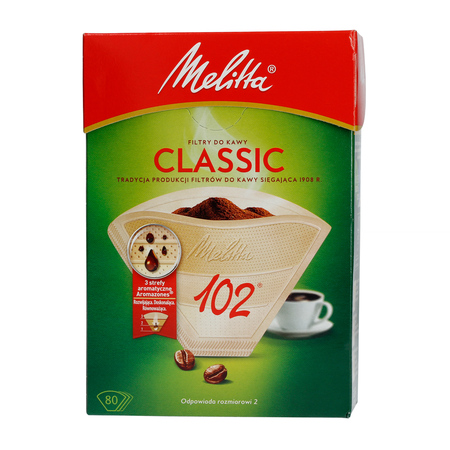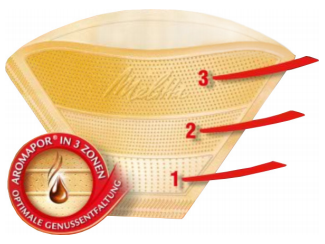 1 – The Lower Zone
Fewer aroma pores, allowing the water to seep through more slowly, so that it can develop the aroma to the fullest.
2 – The Middle Zone
More aroma pores in the paper, allowing an even brewing process which refines the aroma.
3 – The Upper Zone
The filter paper here has many more aroma pores and lets the coffee pass through quickly. This way the undesirable bitter acids don't have a chance to unfold.
Overview
The Melitta Paper Filters are designed for filter coffee makers. They're  perfect for size 102 coffee filter holders
Balanced taste: 3 zones of filtration to release, no taste alteration.  Discover and balance the rich flavour and aromas of the coffee thanks to the patented technology 3 zones of aromas.
Optimal extraction of coffee oils thanks to AromaPor micro-perforations
Ultra tear resistant, Biodegradable, FSC-certified
Contents: 80 Melitta Coffee Filters Original, Brown
Size 102
Weight: 120 g