Finding the most suitable coffee machine for your office is not be an easy task so we have developed this guide to support your decision and we also would like to introduce you to the two newest Necta bean to cup coffee machines.
These machines bring many great features that are adaptable to meet your staff needs and tastes.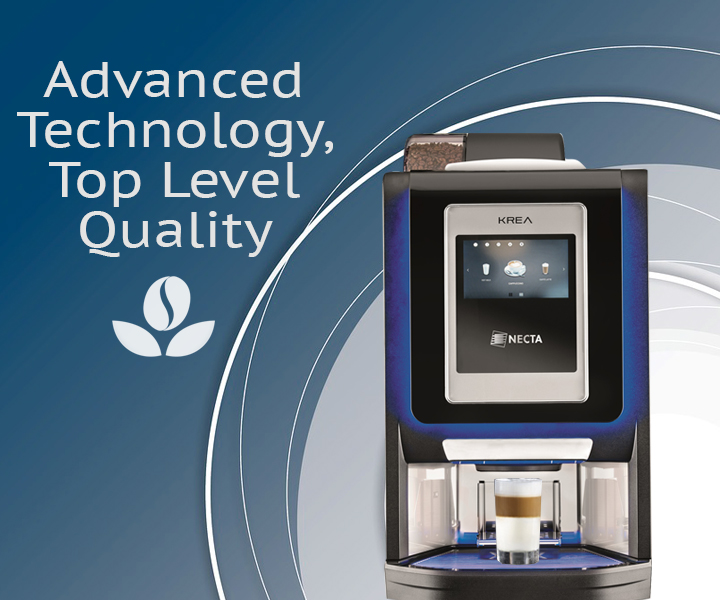 The first feature of this office machine becomes noticeable before you even get close to it, the elegant and modern design with the decorative blue light, chrome frame, gloss black colour and 7" HD touchscreen ensures this machine not only serves tasty coffee but also complements the look of your office or canteen.
Take the design up a notch and upload personalised institutional videos of your company, staff or event via USB.
The Krea Touch combines the patented Z4000 coffee brewer with a compact espresso boiler that guarantees a high consistent throughput. The Krea Touch has three modular internal canisters that can be used for milk, decaffeinated coffee and hot chocolate. The robust patented brew unit is versatile and can be programmed for 7oz, 9oz and 12oz cups.
This commercial coffee machine is durable and reliable but in the unlikely event that anything goes wrong the Wi-Fi, Bluetooth, 3G and LAN technology is also available in the Krea Touch, the registered e-mail addresses will get an alert straight away.
200 drinks per day
Dispense time of 25-35 seconds
Simple to clean and maintain
3 instant canisters for milk, hot chocolate or decaffeinated coffee
Multimedia display for company logo & promotional videos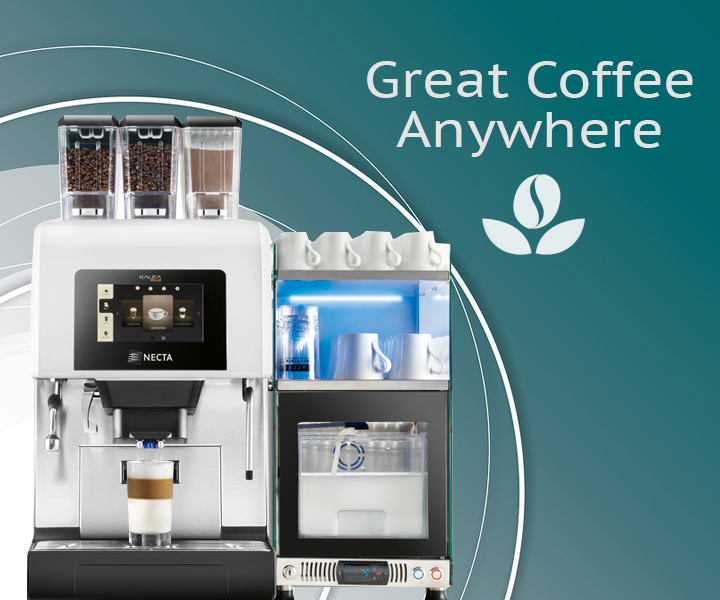 This practical and compact coffee machine serves black coffee or milk-based drinks at the touch of a button. It has three canisters, two for different coffee blends and one for chocolate, that opens at the top making it easy to refill. Although you won't need to refill it very often due to its high holding capacity.
A great advantage is that you don't need to adapt your taste to the machine's drinks, it adapts to you, it is possible to customize the strength of the drink and the cup size to your preference.
Maintenance is simple and there is a new built-in Wi-Fi, Bluetooth, 3G and LAN technology that sends an alert e-mail in the unlikely event of an issue with the coffee machine. There is a chance that your supplier will be there to solve the issue before you even know it happened.
The Necta Kalea Plus being designed and built in Italy in an elegant white colour that is both eye-catching and will complement any environment.  It comes complete with a fridge and cup holder with the option of adding a payment by coin or card facility.
On top of all the great functionalities, Kalea offers a special touch by letting you upload videos to its 7`inches HD display both on standby and during drink preparation, it is an opportunity to promote your brand or, for example, a company event.
Grind on demand with fresh bean-to-cup coffee
Milk system: professional geared milk pump
Semi-automatic cleaning process of the fresh milk circuit
Ability to communicate with telemetry & remote monitoring systems
No. of selections: up to 10 per page (4 pages)